When I, on very rare occasion, shop in an actual mall, I don't really take into account normal considerations like consistency, brand, or age of target customer. I own a dress from the Target children's section and a bright green pair of GapKids shorts.
The Shorts
I wander into PacSun as often as Macy's. I give Aeropostale a shot every once in awhile, mostly because of the adorable black cotton blouse with tiny blue flowers snagged there once. When I was disappointed in the tour merch a couple years ago when I went to see No Doubt, I ended up in Hot Topic not long after and picked up a t-shirt that was cuter than anything I saw at the show, at a fraction of the price. I am a seasoned and patient hunter when solo shopping, and I don't let preconceptions about audience deter me from patronizing a store. I may have just turned 30, but that didn't stop me from discovering one of my new favorite places for trendy basics- Zumiez.
Yes, you heard that correctly. That concrete and metal go-to spot for skateboard/snowboard-obsessed teens. You probably walk right on by and scoff at the neon fur-trimmed parkas in winter and obscenely cropped flowy tank-tops in summer. But scoff no more! When I stopped in during the holiday shopping season last year I discovered that Zumiez had started it's own line of basics...and it's awesome.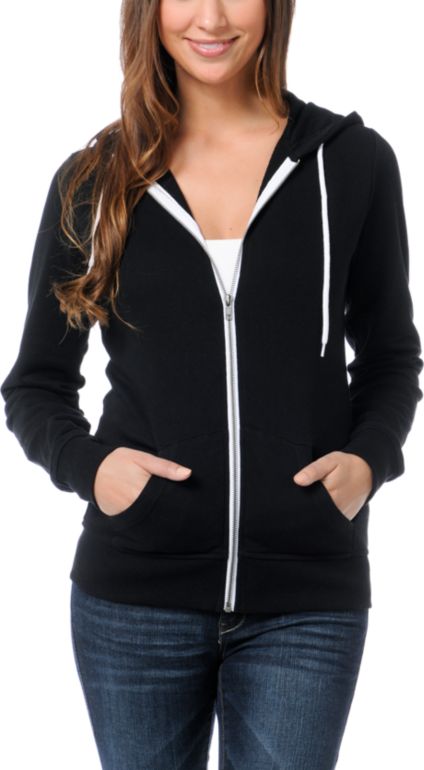 http://www.zumiez.com/brands/zine/zine-hoodies/zine-girls-black-hoodie.html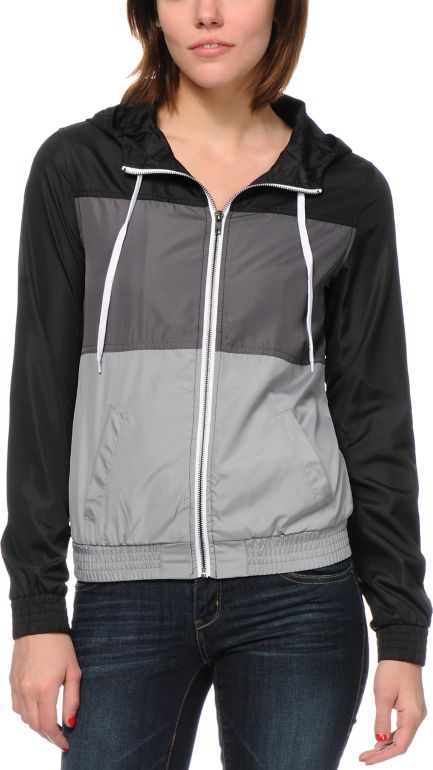 http://www.zumiez.com/zine-girls-black-medgy-light-grey-windbreaker-jacket.html
See those creepily faceless young ladies there? They are wearing two Feathers-approved items straight from the Zine Girls line. Last year, desperately in need of a good plain hoodie, I had my heart set on a plain-colored one with a white zipper and strings. But I am wary of American Apparel, and as much as their classic hoodie fit my every requirement, I couldn't quite pull the trigger. Enter the Zine Girl version seen in the top photo. I got mine for Christmas and wear it constantly. I throw it in the wash every week or two, and let me tell you, it holds up. Six months later, the shrinkage is minimal (I'm not careful what cycle I wash it on), the color has held fast and it looks brand new. My only beef is that I find it a bit long in the torso, but perhaps that's just because I'm a shorty. The other greatest weakness is that, despite the availability of many colors, there is NO NAVY BLUE option which is what I realllly want. Otherwise, for forty bucks it's a bit of an investment for a sweatshirt, but worth it. If you're still thinking that's a bit steep, they are always always buy one get on 50% off, so maybe go in with a friend and you can each have one for thirty.
I've also got to give my endorsement for the great 70's-inspired windbreaker (second image). I got the blue one from Joe for my birthday, but when I checked just now on the website I saw the great black/gray one above, which I think is amazing and now I kind of want it. I wore mine recently on a day out with my mom and she was telling me how she had a jacket really similar when she was young. I love the way the hood is cut to look like a collar in the front, and who can resist the lovely swooshing sound you make walking around in this material?
The jacket in action- Chihuly Museum
The jacket being awesome atop the Space Needle
I'm not sure about the t-shirts and tanks tops, which all look super long in the web photos, but if I stil had occasion to wear a backpack I gotta admit that purple one is tempting. Go check out all the Zine stuff for yourself
here
. Keep in mind that sizing is for juniors, so they are cut slim. And no, I'm not getting paid to write any of this. Let's be honest...only like fifteen people are ever going to read this anyway.